It might not be authentic, or even that great when compared to red, but Craig's mom is willing to drink it, which is the reason I made it with white wine. Oh, and I have a CLASSY box of wine that I keep in the kitchen for cooking, which means I didn't have to buy wine. Sangria-tizing wine makes even 3-buck-chuck drinkable.
I was making a nectarine cobbler so I thought I'd lend a little continuity to the meal and use them in addition to my classic strawberries and lemon combo. They were pretty awesome. I also used tangerines. The trick is to let the wine steep in the fridge overnight with the fruit, then if you're serving it to guests, drain the greyish and discolored fruit out, slice up some fresh lemon/tangerine, and put it in a pretty pitcher. Putting a slice of lemon in one's glass is a festive way to serve it, and it makes you feel less bad for basically wasting a whole $1 lemon for the sake of a nice presentation.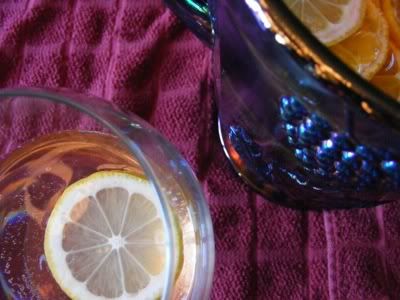 If it's too sweet, water it down with a little club soda or talking rain.