I know, it's like the most commonly prepared thing now that Julie & Julia came out. Guess what? I had never even thought of cooking Boeuf Bourguinon until I saw the movie too. But since then, it's been a great comfort food in our house. The first time, I followed the recipe to the T, well with the exception of a ton of pearl onions. Those puppies are hard to find! Anyway. Then I began to think about how I could make it easier.
You see, boeuf bourguinon is just a fancy beef stew. And not even that fancy. There are 2 things that differentiates it from "classic" beef stews- bacon, and red wine. I couldn't think of better additions myself. Really, I tried. Anyway. The bacon makes it taste… well… magical. The red wine helps to cut the fat and overwhelming richness of the (or at least my) homemade beef broth. The onions and carrots are.. well, there. And mushrooms are added towards the end of the cooking. These small tweaks from normal beef stew really make so much better. I had trouble getting Craig to eat beef stew before, but he happily eats this, which is saying a lot. He's spoiled and complains about pretty much everything.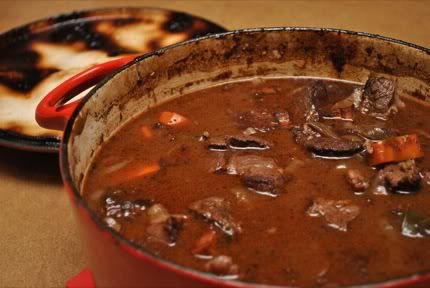 In the real recipe, everything is seared in the pan, then it's deglazed with red wine, beef broth is added, and it's sent to the oven for 4 hours or so. Being one who feels squirmy when faced with the possibility of being away from the house when the oven is on, this method is only really a great option if you are home all afternoon, like during the weekends. My adaptation is to sear everything in the morning, put it into my crock pot, deglaze the pan with red wine to get all the good burned on bits up, then pour the wine and beef stock over the meat/veggies in the crock pot, then let it go on low all day. It turns out pretty good. The beef should be fall-apart tender and everything should be beautiful.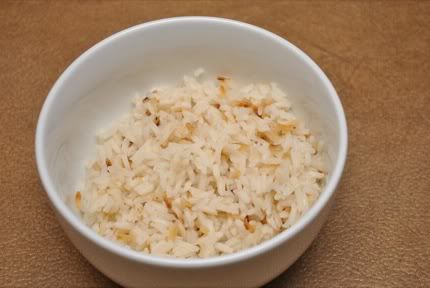 I serve this over rice. In the photo below, you can see a beautiful chunk of glistening, homemade bacon. It's amazing.