This is the greatest. I've been making it at my grandmother's house on visits for as long as I can remember. She's a candymaking master. Seriously. And it's cheap. And nobody believes that you made it yourself. And it's really not that hard to do. The only thing is cleanup. It sucks.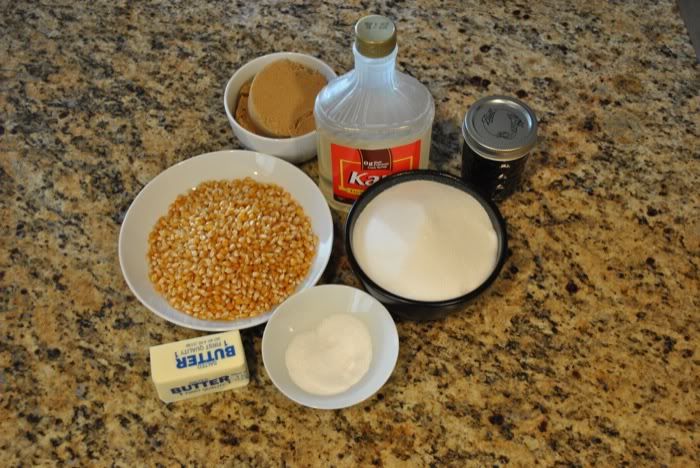 I doubled the recipe this time, I knew I'd be making a lot to bring to work and give as gifts. It requires an obscenely large bowl though. You start by popping your popcorn. For the double recipe, that's a pound. PRO TIP: Pop it in batches and shake the seeds down to the bottom and be careful not to transfer them over to the larger bowl. You'll notice the difference when you're eating it and not biting into unpopped kernels. I promise.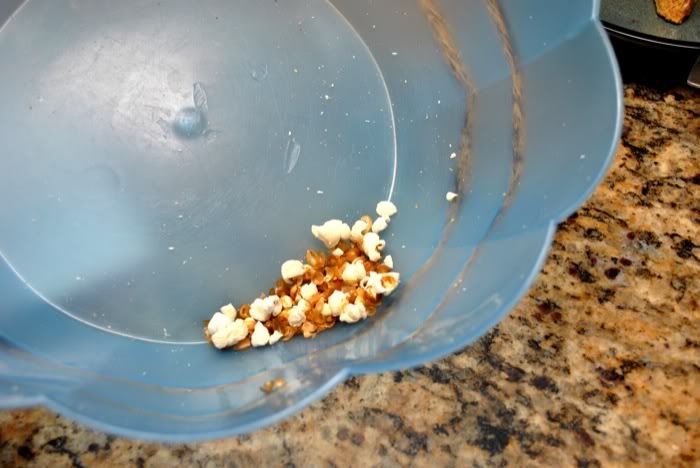 Did you know that my great grandmother (great great grandmother??) wrote a book on candymaking?
Here's the recipe. No copypasting for you!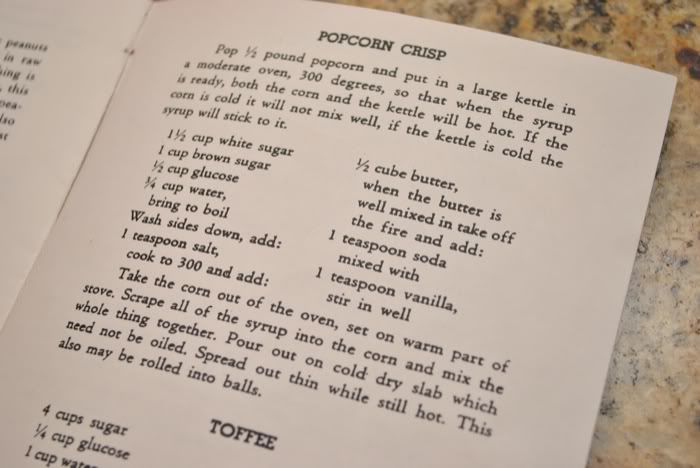 Glucose is code for corn syrup. Well, not really, but it does enough of the same thing that it's totally acceptable. Plus Grandma Jean told me that corn syrup's totally cool to use.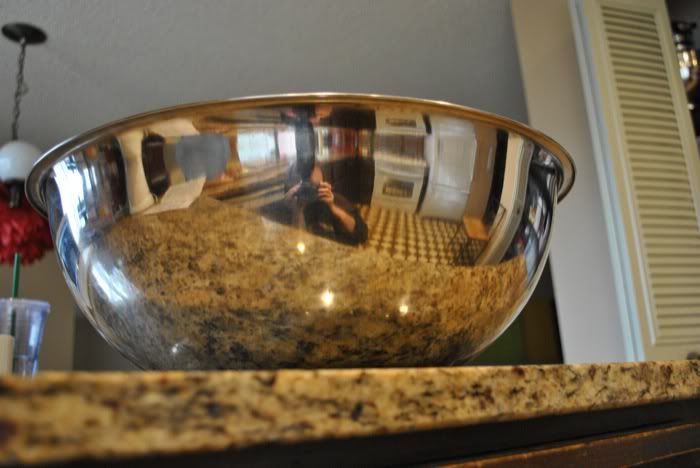 This is my enormous bowl. It's 5 gallons. In the following photo, I used my Starbuck's cold drink reusable cup for scale.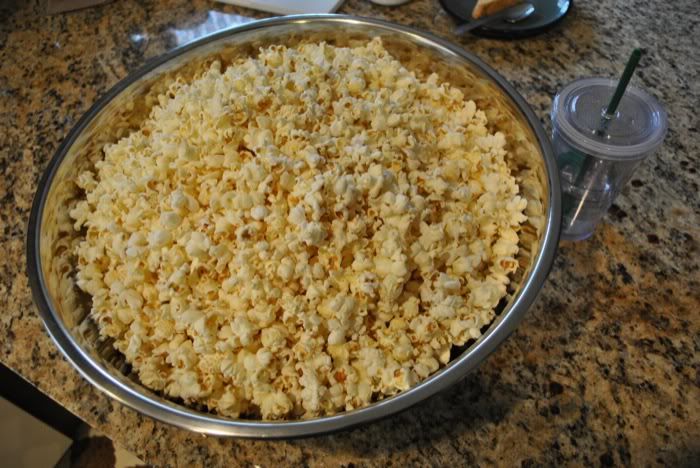 Anyway, once you get your popcorn popped, put it in the oven at 300º to keep it warm. See recipe above for reasoning. Then bring your sugar mixture to a boil. Use a pot that's way bigger than you think you need. I started with one that was much smaller before remembering what happens.
A good trick for doing anything regarding candymaking is to keep your utensils in a glass of hot water. That dissolves sugar crystals that will thwart your attempts at a beautiful and pleasant caramel.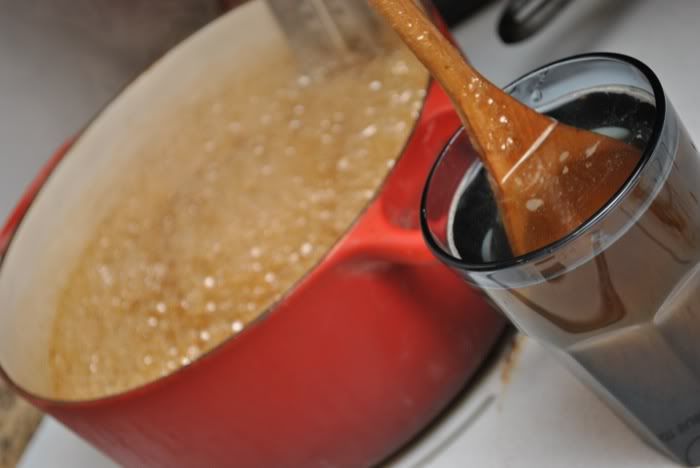 So anyway, you cook it to 300º. Keep an eye on it after it hits 230ºish. It will shoot up and you will be unprepared. If you are sufficiently underprepared, you will have burnt caramel and you'll have to start over. Or just give up and eat approximately 1700 calories worth of popcorn. Not that I've ever done that. Ever.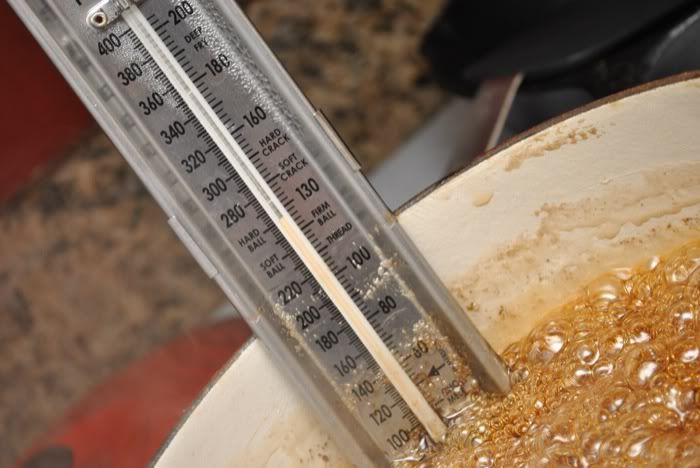 When it hits 300º, you add your butter, then a slurry of vanilla extract and baking soda. I mix it in a shotglass. There's less surface area to lose baking soda or vanilla. One of the things my grandma told me about recipes is to double the vanilla. I dont usually DOUBLE the vanilla, but I almost always add extra. I've never been disappointed. In this case, I doubled it. If you wanted to get fancy, you could use half the vanilla and throw in the caviar from half a bean. Mmmmmm. That would be good! And then you could get pretentious and call it "vanilla bean toffee popcorn."
Since the whole step of adding stuff at 300º is speedy and requires lots of hands-on hoopla, I don't have any photos of it. Count on the caramel doubling in volume from it's boiling state once the baking soda-vanilla slurry has been added. That's why you want a larger pot than you think you need.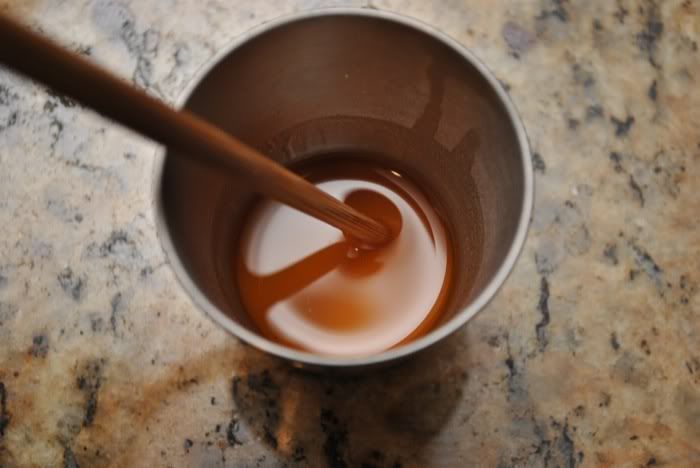 So then you pull the 300º bowl out of the 300º oven and pour your 300º caramel onto it. Please use a potholder. I use a cloth one and just wash it afterwards. If you have a silicone grabby thing, you could use that. I have 2 that I've gotten as gifts, and only use them as a last resort. For no rational reason at all, I hate them. If you've bought me one as a gift before, Thanks! It was a wonderful thought and most people adore them, so it was a smart choice, but please don't buy me more. They'll just live in the back of my potholder drawer with the unused plastic dropcloths from when we painted the house when we moved in 2 years ago, the pastry tips, pumpkin carving equipment and (I just checked) an almost totally gone eyeliner pencil that must be leftover from pumpkins too. That was a confession by the way. Please don't hate me. I have a terrible habit of not being as psyched about kitchen gifts as I should be.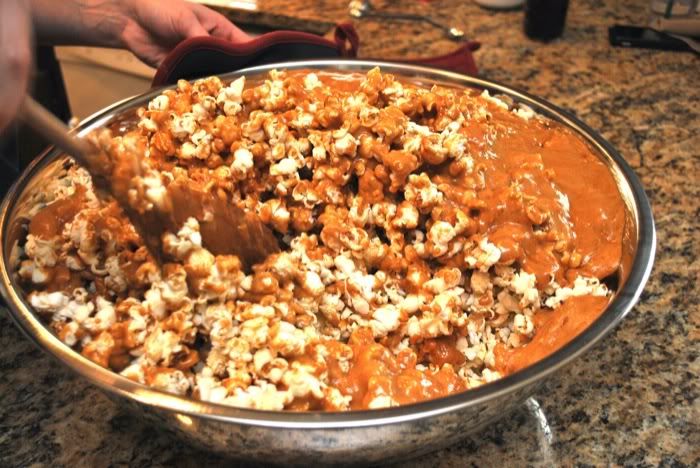 Once it's been mixed SUPER thoroughly (take your time, the heat from the bowl should keep it liquid for at least long enough to mix it if you are not super slow), spread it out onto your (mostly) cleared counter. A 2-4″ depth is fine. The goal is to get it to set fairly quickly.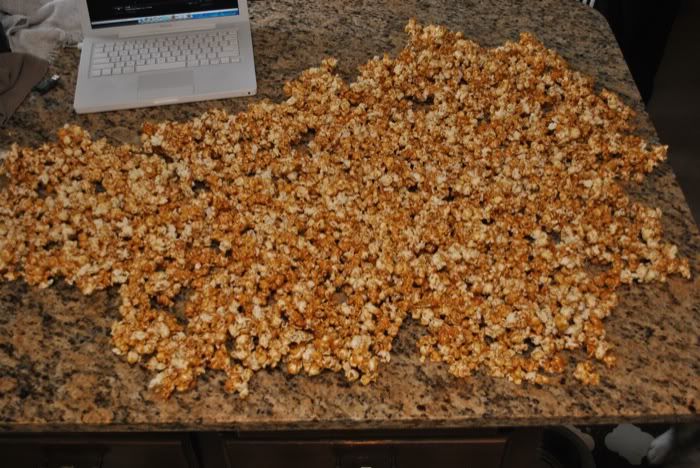 You don't need a granite counter for this. I made it last year or the year before on laminate and it was fine. Even the scary textured laminate that we had before the granite. The cleanup is slightly more involved if it doesn't cool on the surface super quickly though. This year I didn't need to go over the counter at all with a scraper (I did anyway) but last year with the laminate required a scraper, then a few minutes of scrubbing with a scrubby sponge to remove the residue. It's worth it though.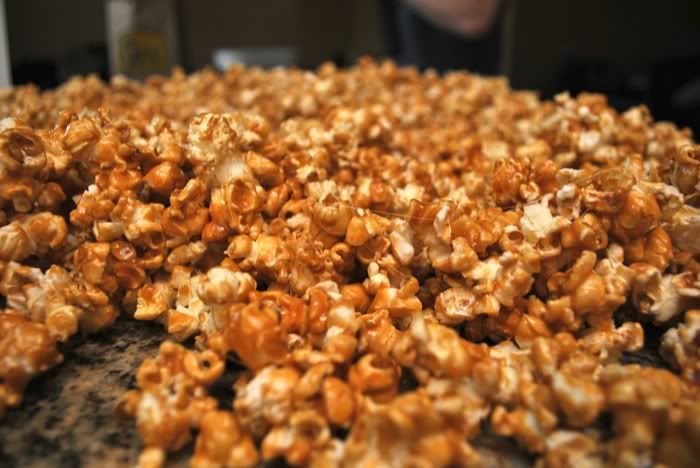 I love caramel popcorn. I play a game with myself when bagging this up to see how big I can get with chunks of it before they break when I'm pulling it off the counter. I'm a little strange.
The biggest I've ever gotten was approximately 1 square foot. I was REALLY excited. Then it broke off and dropped onto the counter and shattered. And the dog got most of it when it bounced off onto the floor.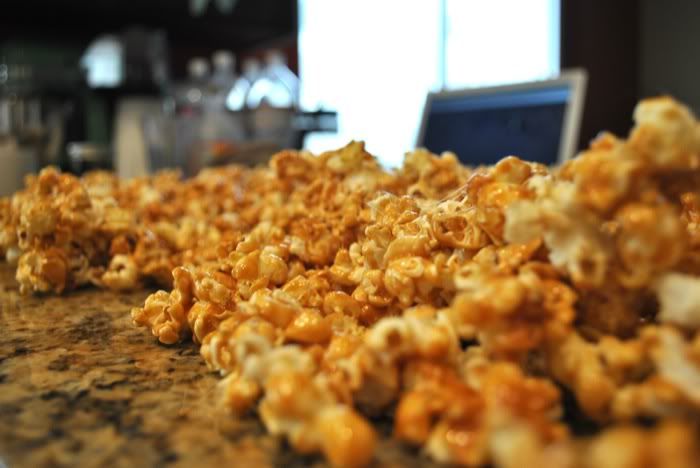 He was pretty pleased with himself. I was pretty distraught.
I realized AFTER pouring my popcorn out onto the counter that I'm almost out of gallon ziplocs. And my 2 gallon ziplocs are nowhere to be seen. Luckily I have a million of these quart sized containers in my second pantry so I was able to save the day.
The only problem with this popcorn is that the sugar in the caramel is so hydrophilic that it gets sticky and weird and unpleasant within maybe 45 minutes of being exposed to (humid PNW) air. It NEEDS to be sealed. Unfortunately the cute little tins that normal popcorn is packaged in during this season are not to be trusted. They don't seal quite enough. 1 or 2 gallon sized ziplocs are the best.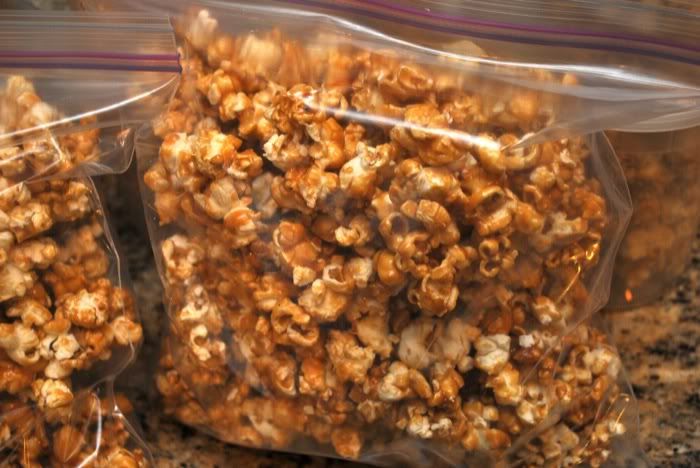 You won't be disappointed that you made this. I guarantee it.