Aren't you relieved? I thought you might be. You see, our back yard is in a state of total disrepair. We have focused so much of our gardening energy into relandscaping our front yard that we totally ignored the back, save for adding a few more raised vegetable beds and dogproofing what we have in the back. As such, all of the areas that at one point contained 15 year old bark mulch have been overtaken by weeds and grass, and the lawn has experienced the opposite effect. A couple years of neglect and lacking water, and there are areas that have nothing growing on them. It's a bad state of affairs in our back yard. We have a big project this year, with some big decisions to be made in terms of whether we keep the lawn or try to make some sort of potager setup or orchardy thing. I don't want to totally destroy our resale value, but we never use the lawn, and it seems like it'd be much more enjoyable to get some incredible flowers, vegetables, and fruits out of the yard instead of (occasionally) mowing the lawn and pulling weeds in areas that we never go into. Regardless, the purpose of that rant was to describe the deplorable state of our back yard. It's not looking good. We have a long and skinny garden bed along the front of the deck by our bedroom, which blocks off access to under the deck(dogproofing), and helps "finish off" the space a little (that is, when it looks nice). I have a wisteria vine that I put in a year or so ago (I have been warned), some honeysuckle, and I usually grow dahlias and piles of nasturtium in the bed. And it's very pretty. You know, for the 8 weeks out of the year that the nasturtium looks nice. Otherwise, It looks like a bit of a wasteland with wilting vines (nasturtium seems to be very heat intolerant in our yard's baking hot full sun), unused dirt, or, every spring, shotweed, which is something that I can't seem to get a handle on.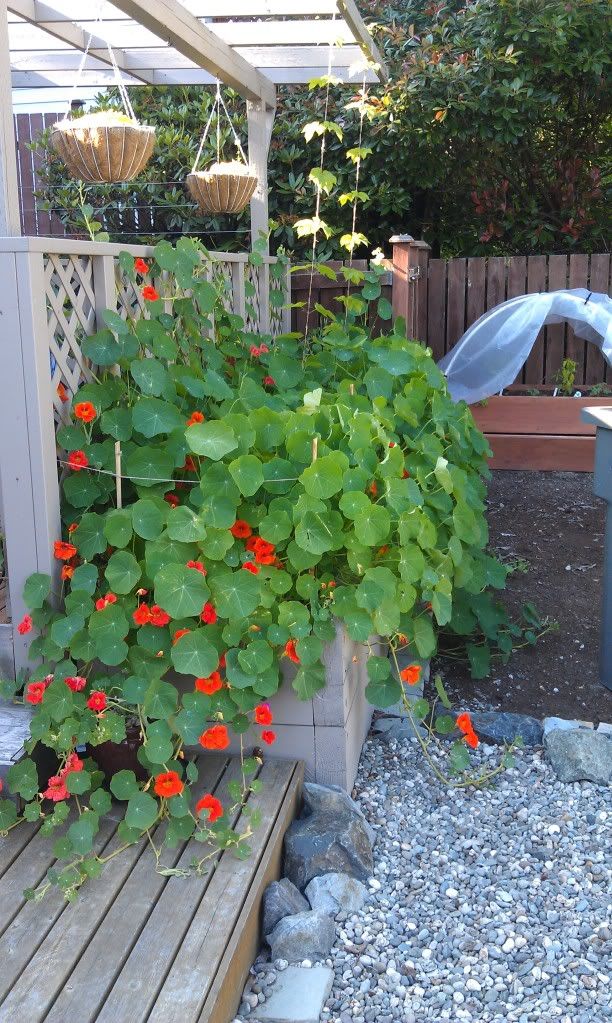 I have also made the conscious decision to scale back on dahlias in the future. They're such beautiful flowers, but I think they get too much sun in our yard and I don't give them enough water (I'm on a drought-tolerant kick right now, I hate watering), and frankly, they're just a little too fussy for me to concentrate on. I want like 5 really good plants in one bed that I am likely to care for them in, and otherwise, none. Anyway, I'm kicking them out of the long raised bed by our deck. It is all the way full of shotweed…. like… the idea of trying to pull it gives me anxiety. I figured I'll just lay down a few layers of newspaper and top it with some good topsoil, then start growing veggies there. But then I realized that the newspaper (at least for a few months) will prevent seeds from setting roots far enough down to survive, so I'll need to plant actual plants, and I don't usually grow actual plants except for tomatoes, and could I grow tomatoes in that bed, and oh man, how haven't I seen this before? The deck still has the supports from when we had corrugated plastic on it, and those would be perfect for stringing up tomatoes, and the elevated deck makes training them easier, and I could totally use the railing to make a tiny plastic tent for them til the weather warms up and oh man am I incredible or what?! That happened in the shower, and I was so excited to get out of the shower and tell Craig about it that I nearly forgot to rinse the conditioner out of my hair.
So anyway, I will use the railing to make a small version of the plastic tent support, like I have in my bigger tomato bed, and then when they outgrow the small tent, I'll use the pergola-type thing to run the strings up to support the tomatoes, and that'll be that. It'll still look bad for 2/3 of the year, but at least we'll nearly double our tomato capacity without removing anything that'll bother me.